Careers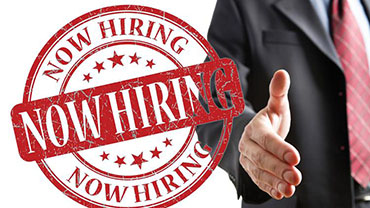 We're Always Looking For Talented People
To Join Our Team!
We are proud of the work that we do, and we wouldn't be successful without our passionate team of dedicated people. If you think you've got what it takes and you have the desire to be a part of a creative and innovative group of professionals in a fun and rewarding environment, then we invite you to check out our current openings. We'd love to hear from you!
Lead Rigger
We are looking for an experienced Rigger who will be involved with installing and decommissioning all types of bank equipment. Equipment includes, but is not limited to, vaults, vault doors, safes, chests, safe deposit boxes, after hour depositories, ATMs, recyclers, teller undercounter cabinets and insulated chests and cabinets.
Duties and Responsibilities
Perform equipment installations and decommissions of all types of bank equipment.
Perform other job-related tasks as assigned by management.
Skills
Knowledge of Rigging.
Knowledge of Safety Requirements.
Work Environment
The employee is also required to be available to work on nights, weekends, overnight and after 5 p.m. as needed.
Experience and Minimum Qualifications
5+ years rigging experience
Must be able to pass a drug and background check
Certificates, Licenses, Registrations
Applicable state and local licenses as required.
OSHA 10 certification a plus.
Job Type: Full-time
Experience:
Language:
Apply Now
Please review all application instructions before applying to Phoenix Diversified Group, Inc..
Facilities Maintenance Field Technician
Job Summary
On-site field review of facility maintenance items. Tech needs to have ability to identify problems, make temporary repairs in field and identify what permanent repairs are required. Collaborate with and field manage different trades to facilitate repairs. Provide support to Phoenix Diversified Group's Facilities Maintenance Manager. Secure and manage access into facilities, provide field customer service support.
Duties and Responsibilities
Travel to all locations in portfolio to identify facilities maintenance issues and repairs
First responder on all emergency calls in regard to facilities in need of repairs.
If necessary, tech is to identify and make temporary repairs including carpentry, painting, plumbing, electrical, and other minor maintenance items.
Supervision of trades on all permanent repairs, which include, but are not limited to: general facilities maintenance and liability issues, carpentry, painting, flooring, storefront systems and doors, electrical, lighting, plumbing, exterior site and signage requirements, pot hole repair, line striping, seal coating and emergency water intrusion problems
Secure access into facilities
Provide quality control of all field repairs
Compile information and forward to facilities manager for all required quotes, including photos
Report accurate records of field reports
Qualifications and Skills
Good knowledge of commercial construction
Field experience in at least one trade discipline
Ability to read and comprehend drawings is preferred
Availability to work days, nights and weekends when needed
Valid driver's license with a good motor vehicle record
Must be organized and able to work well as part of a team
Job Type: Full-time
Experience:
Commercial Construction: 1 year
Facilities Maintenance Work: 1 year
License:
Language:
Required work authorization:
Journeyman/Lead Carpenter
We are looking for a full-time Journeyman/Lead Carpenter to work from our shop in Fairfield, NJ and work on job sites throughout the tri-state area (NY, NJ, CT)
Duties and Responsibilities
This Carpentry professional will complete tasks alongside our in-house work force and oversee assigned aspects of the construction process to ensure projects remain on schedule and according to the plans.
Skills
Must be able to read and properly interpret blueprints.
5 years of verifiable carpentry experience (interior, exterior, commercial).
Must possess knowledge of commercial and residential construction techniques, tools, materials, equipment and safety.
Experience with framing, metal studs, hanging and finishing drywall.
Excellent time management, planning and customer service skills.
Must be organized and detail oriented.
Abilities
Ability to work effectively with others.
Ability to read and interpret documents such as safety rules, operating and maintenance instructions, and procedure manuals.
Ability to write routine reports and correspondence.
Ability to speak and understand English effectively.
Ability to adapt to changes in the work environment, delays or unexpected events; manage competing demands; change approach or method to best fit the situation.
Experience and Minimum Qualifications
High School diploma or General Education Degree (GED) or Vo-Tech diploma.
Must be able to pass a drug and background check.
Certificates, Licenses, Registrations
Valid Driver's License and reliable transportation
OSHA 10 certification is a plus